College Financial Chiefs Are White Men Who Want to Retire
Jobs from Indeed
jobs by
Business officers at U.S. universities are predominantly white men earning $150,000 to $300,000 who plan to retire in three years or less — and many of the institutions dont have a succession plan in place, according to a new survey.
Women lagged behind men in both title and pay in the survey of 713 business leaders at colleges, according to the study published Thursday by the National Association of College and University Business Officers. In 2016, 32.4 percent of chief business officers were female, up from 31 percent in 2010. About 45 percent of female business chiefs make less than $150,000, compared with 31 percent of their male counterparts, the study showed. The average age was almost 57 for male respondents and almost 55 for women.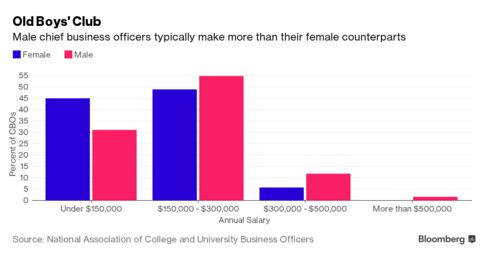 While women make up less than one-third of CBOs at higher education institutions, their representation at colleges and universities is actually much higher than in other industries, the association said in the report. About 26 percent of college presidents are female, compared with less than 5 percent of female chief executive officers at Fortune 500 companies, according to the report.
The pay gap also could be explained by the prestige of the colleges and universities that employ female business officers: among public two-year institutions, women made up 46.9 percent of business officers, but that number drops to 30.1 percent among public four-year universities. Women had the lowest penetration at private four-year schools, making up just 26.8 percent of budget officers, according to the report.
Retirements Imminent
More than 43 percent of respondents said their next career move will be retirement, with about 44 percent of them planning to move on within three years. That leadership exodus is coming much sooner than many in higher education expect, with 37 percent of business officers saying their institutions dont have a succession plan in place, according to the survey.
The majority of respondents said they are perceived as the primary guardian of the institutions financial resources but that they have broader responsibilities. Beyond budgeting and accounting, chief business officers said they often oversee bursar services, endowments and investments, and public safety, among other areas, according to the study.
Read more: http://www.bloomberg.com/news/articles/2016-07-07/college-financial-chiefs-are-white-men-who-want-to-retire-soon